miniDAMR v1.2 is a miniaturized version of our triaxial, vector, AMR based magnetometer with digital feedback. Designed and constructed with demand on small size, weight and power requirements. Application in UAV/sounding rockets/balloon experiments or in space – small sats (CubeSat) is possible. Together with usual testing and calibration we concentrated also on higher tolerance to radiation – results from preliminary testing using 60Co source are briefly mentioned below.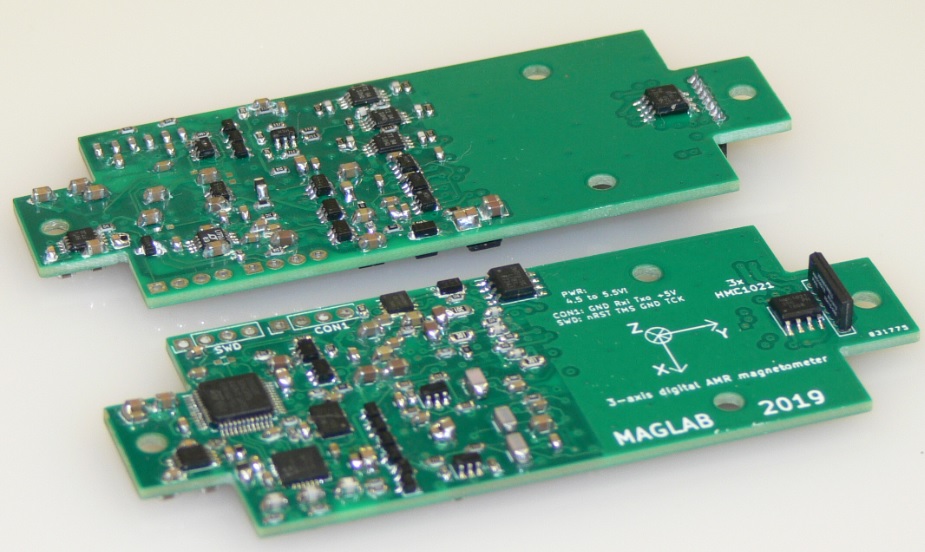 Measurement range: ± 100 µT
Linearity error: ± 0.01 % of Full Scale
Orthogonality error: < 0.1°
Offset temperature drift: < 2 nT/K
Sensitivity temperature drift: < 0.005 %/K
Noise (dig. output): < 300 pTRMS/sqrt(Hz) at 1 Hz
Maximum TID (gamma): 50 krad (component level)
Interface: TTL (3.3V) UART
Size without (with) case: 35 x 90 x 10 mm (40 x 95 x 15 mm)
Power consumption: < 0.6 W (all modes)
Input voltage range: 4.5-5.5 Vdc

Measurement modes:
a) continuous 126 Sa/s (with IIR filter, cut-off freq. 30 Hz)
b) continuous 3906 Sa/s (without filter)
c) single-shot at command – 1 second averaging
All three modes can be operated in either open or closed loop.
The description of miniDAMR design and results of TID testing at 60Co irradiation facility are currently under review to be presented at the I2MTC2020 conference.
Informative price (depending on box, connectors): 2100-2500 EUR without VAT /price mentioned for in-house assembly – non – space certified soldering, please contact us for other options/
For more information please contact: David Novotný